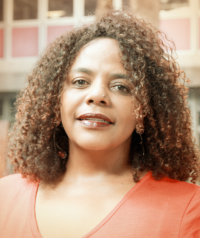 Research Areas: Sociology of Race and Ethnic Relations; Gender Studies; Sociology of Education
Research Themes: racial inequality; racial relations; gender and race; education; labor market; affirmative action policies
Link(s): Lattes
E-mail: m.rlima@uol.com.br
Phone: +551126481167
Room: 11-A
Short Biography: 
Márcia Lima é professora do Departamento de Sociologia da Faculdade de Filosofia, Letras e Ciências Humanas da Universidade de São Paulo (FFLCH-USP) onde coordena o Programa de Pós-graduação em Sociologia.
É pesquisadora sênior associada ao Centro Brasileiro de Análise e Planejamento (CEBRAP). Possui graduação em Ciências Sociais pela Universidade Federal do Rio de Janeiro (1992), mestrado em Sociologia pelo Instituto Universitário de Pesquisas do Rio de Janeiro-IUPERJ (1994) e doutorado em Sociologia pela Universidade Federal do Rio de Janeiro (2001). Realizou Pós-Doutorado na University of Columbia (2011-2012) e foi visiting fellow no Hutchins Center for African and African American Studies da Universidade de Harvard (2016-2017). Atualmente é membro do Comitê Executivo da Brazilian Studies Association, 2017-2019.
Seus temas de investigação são: desigualdades raciais e relações raciais, com ênfase nos temas de gênero e raça, educação, mercado de trabalho, políticas de ações afirmativas.