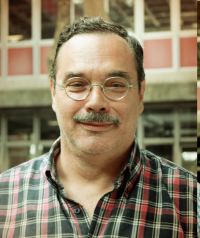 Research Areas: Sociology of Law; Sociology of Punishment
Research Themes: critical theory; Brazilian social thought
Link(s): Lattes
E-mail: ldm@usp.br
Phone: +551130913777
Room: 2133
Short Biography:
Mestre em Law in Development pela Warwick University (1993) e Doutor em Filosofia e Teoria Geral do Direito pela Universidade de São Paulo (1997), é professor do Departamento de Sociologia da FFLCH-USP desde 2010.
Foi visiting scholar do Center for the Study of Law & Society (CSLS), UC Berkeley (2015). Ex-professor da Escola de Direito de São Paulo da Fundação Getúlio Vargas (2006-2009) e ex-professor visitante da Faculdade de Saúde Pública da USP (2004-2007).
Pesquisa nas áreas de sociologia do direito e da punição, teoria crítica da sociedade e pensamento social brasileiro. Integra o coletivo de pesquisa Carceral Studies Working Group (CSLS), UC Berkeley.